Hispanic Chamber Supplier Diversity Program
The Hispanic Chamber of Commerce Supplier Diversity Program is designed to assist minority-owned businesses in accessing government contracting and procurement opportunities at the state, city, and federal levels. By participating in this program, minority-owned businesses can enjoy increased visibility, access to contracting opportunities with government entities at all levels, technical assistance, networking opportunities, and a competitive edge in the marketplace.
El Programa de Diversidad de Proveedores de la Cámara de Comercio Hispana tiene como objetivo ayudar a las empresas propiedad de minorías a acceder a oportunidades de contratación y adquisiciones gubernamentales a nivel estatal, municipal y federal. Al participar en este programa, las empresas propiedad de minorías pueden beneficiarse de una mayor visibilidad, acceso a oportunidades de contratación con entidades gubernamentales en todos los niveles, asistencia técnica, oportunidades de networking y una ventaja competitiva en el mercado.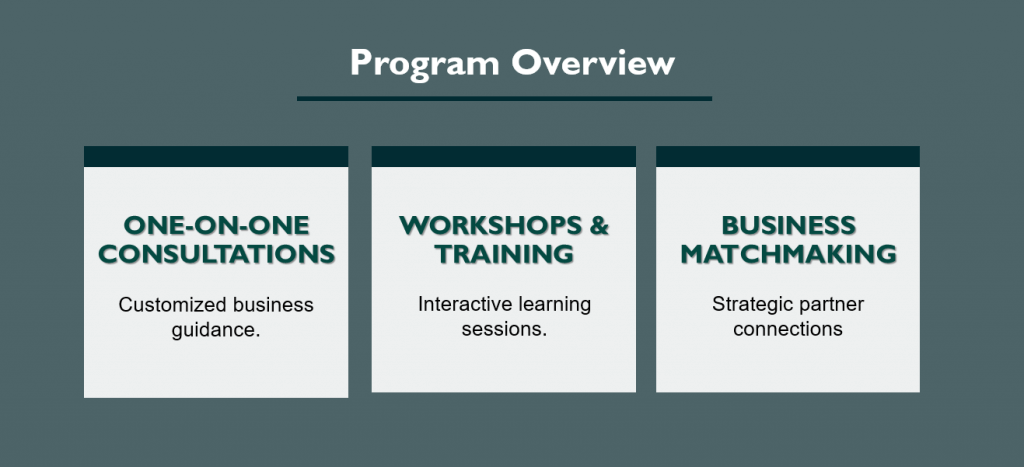 Resumen del Programa
Orientación comercial personalizada
Talleres y Capacitaciones
Sesiones interactivas de aprendizaje
Conexiones Estratégicas Empresariales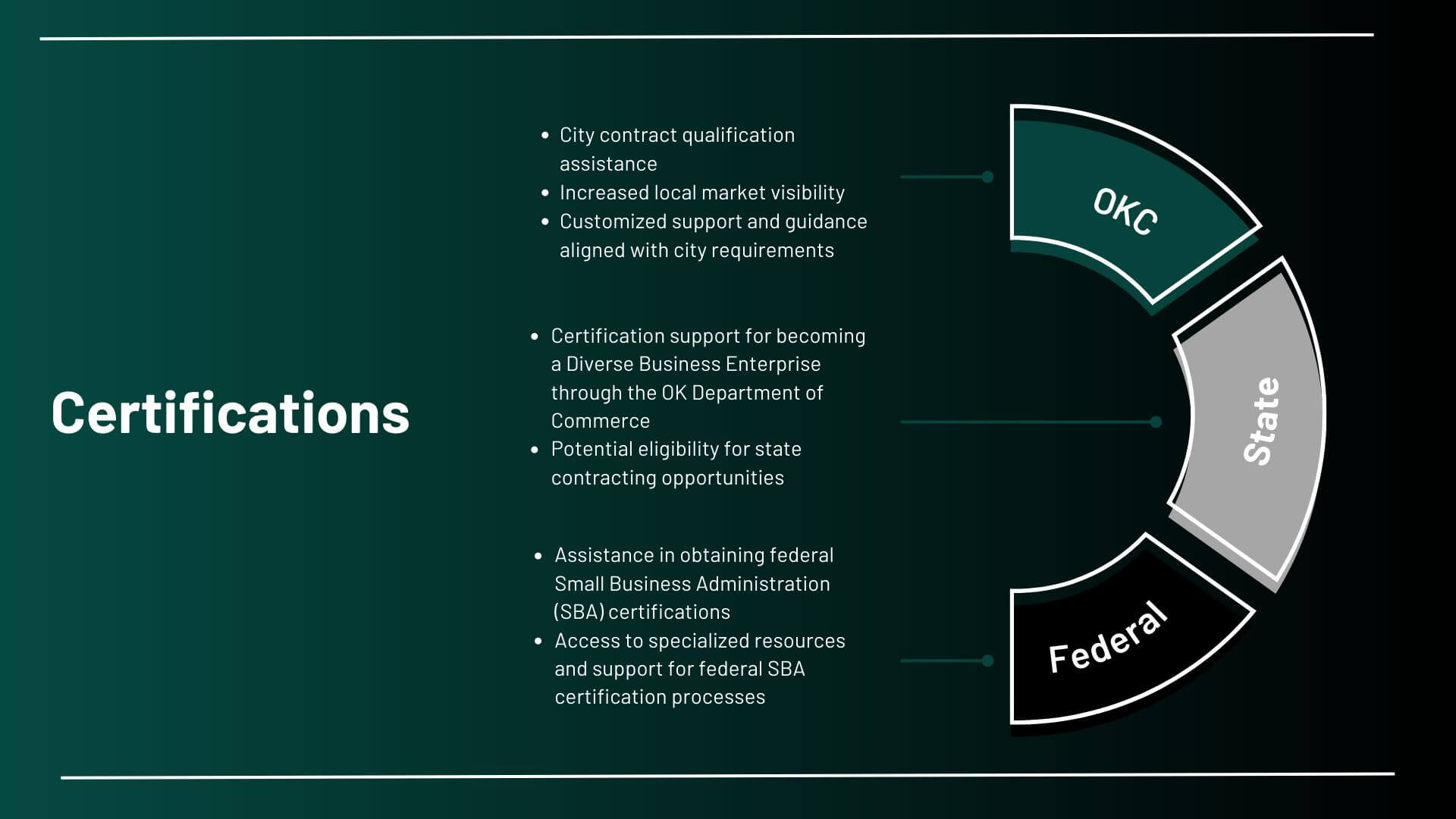 Certificaciones
OKC
Asistencia en la calificación para contratos municipales
Mayor visibilidad en el mercado local Apoyo y orientación personalizados basados en los requisitos de la ciudad
Estatal 
Apoyo en la certificación para convertirse en una Empresa Diversa a través del Departamento de Comercio de Oklahoma 
Posible elegibilidad para oportunidades de contratación estatal
Federal
Asistencia en la obtención de certificaciones federales de la Administración de Pequeñas Empresas (SBA)
Acceso a recursos especializados y apoyo para los procesos de certificación de la SBA federal.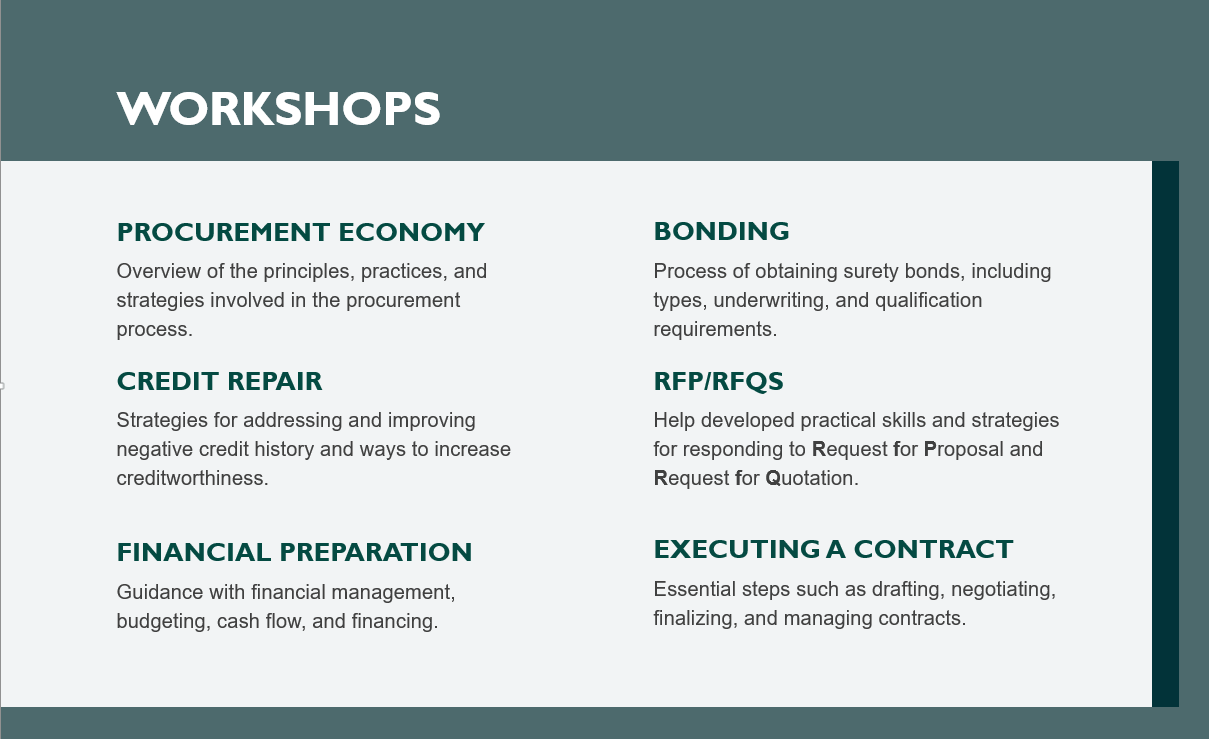 TALLERES
Economía de las Adquisiciones
Descripción general de los principios, prácticas y estrategias involucradas en el proceso de adquisición.
Reparación de Crédito
Estrategias para abordar y mejorar el historial crediticio negativo y formas de aumentar la solvencia.
Preparación Financiera
Orientación con gestión financiera, presupuestos, flujo de caja y financiamiento.
Fianzas
Proceso de obtención de fianzas, incluidos los tipos, la suscripción y los requisitos de calificación.
Solicitud de Propuesta y la Solicitud de Cotización (RFP/RFQs)
Ayudar a desarrollar habilidades prácticas y estrategias para responder a la Solicitud de Propuesta y la Solicitud de Cotización.
Ejecución de un Contrato
Pasos esenciales como redactar, negociar, finalizar y administrar contratos.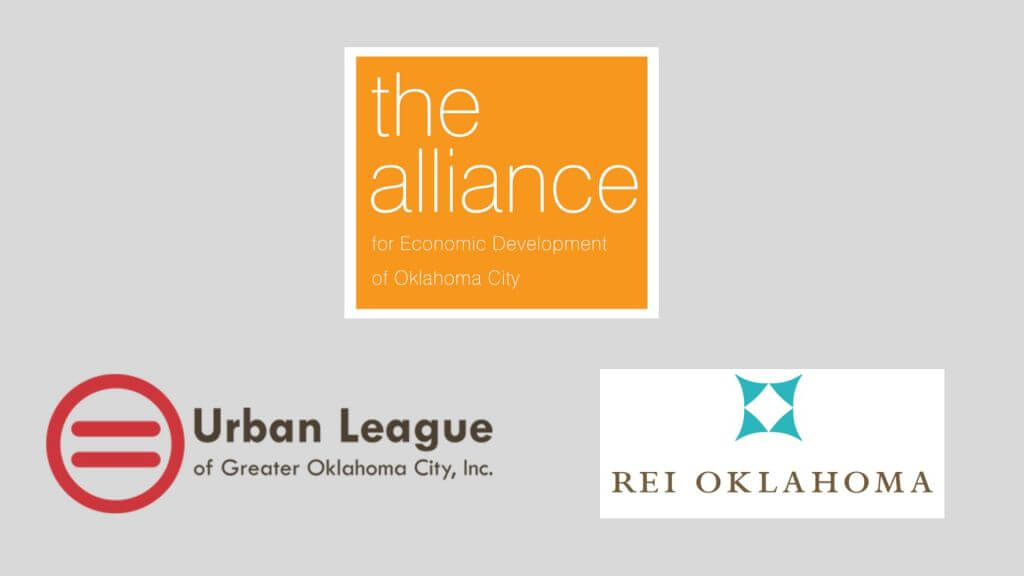 Minority Supplier Program
Program Description
The Minority Supplier Program provides services to increase the numbers of minority-owned businesses that compete for competitive public and corporate procurement opportunities, and to bolster the number of contracts successfully obtained by those firms. Services for minority-owned businesses will be provided by the Urban League of Greater Oklahoma City, the Hispanic Chamber of Greater Oklahoma City, and REI Oklahoma.
The Alliance created the Minority Supplier Program to help minority entrepreneurs and businesses know about and compete for corporate and government contracts. The long-term goal of the Minority Supplier Program is to have a wide network of minority-owned businesses in OKC that are able to meet the requirements of larger contracts.
The Alliance is working through three partners: The Urban League of Greater OKC, the Greater Oklahoma City Hispanic Chamber of Commerce and REI Oklahoma, to help minority suppliers with the following services:
·         Facilitating business certifications that would help businesses qualify for new contracts
·         Providing mentorship to help business owners identify and respond to contracting opportunities
·         Providing accounting assistance and access to bonding/loan products
·         Helping minority-owned businesses secure larger contracts that have collateral requirements
·         Increasing awareness among corporate and government procurement specialists about the network of local, minority suppliers
Program Eligibility
Applicants must be for-profit businesses that meet the following requirements:
·         Based in City of Oklahoma City limits
·         Registered with the Oklahoma Secretary of State in the State of Oklahoma prior to March 3, 2021
·         Have 500 or fewer full-time employees
·         51% of the controlling interest must identify as Black, Hispanic, American Indian, or Asia
·         Provide goods or services in an industry that regularly offers opportunities for competitive procurement and contracting
Statement of Uniform Service Delivery
Interested businesses can apply for services with any of the three partners—Urban League, Hispanic Chamber, and REI Oklahoma. All partners provide a common set of services and make referrals among them to cover services uniquely provided by that organization.
Program Funding
The Supplier Diversity Program is administered by the Alliance for Economic Development for Oklahoma City and is funded by The City of Oklahoma City's allocation from the federal American Rescue Plan Act (ARPA). The Alliance is working through three business support partners: The Urban League of Greater OKC, the Greater Oklahoma City Hispanic Chamber of Commerce, and REI Oklahoma, to help minority suppliers. For more information, visit https://www.theallianceokc.org/arpa-programs.