Total Number of Hispanic Businesses in Oklahoma
Percent of Hispanics in Oklahoma
Hispanics in the United States Today
Percentage of growth in Hispanic owned businesses from 2010 to 2019
Percent of Hispanics in Oklahoma County
Total Number of Hispanics in Oklahoma
Percentage of growth of Hispanics in Oklahoma 2010-2019
About Us
The Greater Oklahoma City Hispanic Chamber of Commerce is a community based organization located in the heart of Oklahoma City with a membership of over 400. The Chamber is a nonprofit 501(c) 6 organization whose primary purpose is to serve local community needs, focusing on those that impact businesses.
Founded by a group of Hispanic entrepreneurs on June 12, 2000. The purpose of this organization is to promote the advancement of the commercial and economic interests of Hispanic-owned businesses, Hispanic-managed businesses, and the Hispanic-oriented businesses, trades and professionals in central Oklahoma.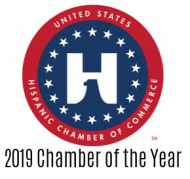 Ivis Turley
Reach Dance Studio
https://www.reachdancestudio.com/
Ivis is a new member with the chamber and an Ambassador. She has taken on additional roles in the chamber and is a pleasure to work with!

Elizabeth Larios
The Alliance for Economic Development of Oklahoma City
http://www.theallianceokc.org/
Elizabeth has been an Ambassador for quite a while now and is no stranger to leading and demonstrating community involvement. Her most recent accomplishment is taking over continuing the growth and promotion of the SW29 District-La 29. Way to go Elizabeth!
David Castillo
CEO / President
E. Alexandra Castro
Project Director
Maria Stafford
Administrator Assistant
We invite you to Join the Chamber
Help us make Oklahoma City the best place to live, shop, work, and play.
Thank you to our Sponsors: